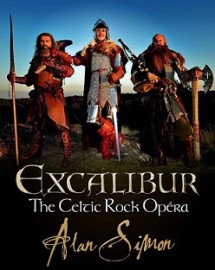 EXCALIBUR " The Alan Simon Celtic Rock Opera" & SPECIAL Guests
Saturday 7 September, EXCALIBUR Band will be presented for the first time in Italy with the participation of special guests of great importance:
Michael Sadler (SAGA)
Richard Palmer (KING CRIMSON)
Jacqui Mac Shee (PENTANGLE)
Roberto Tiranti (LABYRINTH)
Alan Simon (EXCALIBUR)
Kohann (SKILDA)
Short Biography.
1996: Alan Simon create in Celtic Brittany ( his land) the rock opéra: " Excalibur the celtic legend" inclued Roger Hodgson/ ex lead Supertramp, Faiport Convention, Tri Yann & many more…
1999: Three years later the album is out on Sony/Tristar label. After only two months of sales Excalibur is certified platinum album. Excalibur will stay on the top 10 during 100 days.
2000: Excalibur at Paris Bercy ( the biggest arena in France with 17000 people) The show was before this sold out in Rennes and Quimer ( 12000 people)
2006: Alan Simon back in studio for a new opus called :  "Excalibur the celtic ring" with Jon Anderson /Yes, Alan Parsons, BJH/ Les Holroyd, John Wetton / Asia-King Crimson, Andreas Wollenweider and many more…
2008: World release  with EMI, Excalibur got two Awards in USA ( Alan Simon for best  musical producer and Best song for " Circle of life" (Alan Simon) by Jon Anderson.
2009: 22/ 23 july .Excalibur first show in Germany on the front of 20 000 people in Kaltenberg.
2010: January. More than 100 000 people in Germany in 14 cities
2011: March . New tour in Germany. In total around 200 000 people.
2012: New album "Excalibur The Origins" . Big show in Brittany on the front of  8000 people in Brocéliande.
Live CD/DVD live out with Pathé in November 2012.( Gold statut)
2016: Alan Simon back in studio for a crazy opus of 22 new tracks: "Excalibur the dark age of the Dragon". From the 1 to the 16 of December Excalibur was on tour in Germany & Switzerland, for his 4th Arenas tour EXCALIBUR got in total more than 300 000 people.
2019: EXCALIBUR 20th Birthday. The 15 of August , Excalibur have got 10 000 fans in the Motocultor Festival in Bretagne.