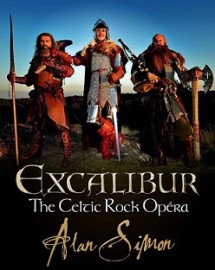 EXCALIBUR " The Alan Simon Celtic Rock Opera" & SPECIAL Guests

Sabato 7 settembre, L'EXCALIBUR  Band sarà presentato per la prima volta in Italia con la partecipazione di  special guests di grande rilievo:
Michael Sadler (SAGA)
Richard Palmer (KING CRIMSON)
Jacqui Mac Shee (PENTANGLE)
Roberto Tiranti (LABYRINTH)
Alan Simon (EXCALIBUR)
Kohann (SKILDA)
Breve biografia:
1996: Alan Simon crea nel Celtic Brittany (la sua terra) l'opera rock: "Excalibur la leggenda celtica", incluso Roger Hodgson / ex protagonista Supertramp, Convention Faiport, Tri Yann e molti altri …
1999: Tre anni dopo l'album esce sotto l'etichetta Sony / Tristar. Dopo solo due mesi di vendite Excalibur riceve il disco di platino certificato. Excalibur rimarrà nella top 10 per 100 giorni.
2000: Excalibur a Parigi Bercy (la più grande arena in Francia con 17000 persone). Lo spettacolo era prima esaurito a Rennes e Quimer (12000 persone).
2006: Alan Simon torna in studio per una nuova opera chiamata "Excalibur the celtic ring" con Jon Anderson / Sì, Alan Parsons, BJH / Les Holroyd, John Wetton / Asia-King Crimson, Andreas Wollenweider e molti altri …
2008: uscita mondiale con EMI, Excalibur ottiene due premi negli Stati Uniti (Alan Simon come miglior produttore musicale e miglior canzone per "Circle of life" (Alan Simon) di Jon Anderson.
2009: 22/23 luglio .Excalibur primo spettacolo in Germania sul fronte di 20.000 persone a Kaltenberg.
2010: gennaio. Più di 100000 persone in Germania in 14 città.
2011: marzo. Nuovo tour in Germania. In totale circa 200000 persone.
2012: Nuovo album "Excalibur The Origins". Grande spettacolo in Bretagna sul fronte di 8000 persone a Brocéliande. CD / DVD live in diretta con Pathé a Novembre 2012. (Gold statut)
2016: Alan Simon torna in studio per una folle opera di 22 nuove tracce: "Excalibur the dark age of the Dragon". Dall'1 al 16 dicembre Excalibur è stato in tournée in Germania e Svizzera, per il suo 4 ° tour nelle arene EXCALIBUR hanno assistito in totale più di 300000 persone.
2019: EXCALIBUR 20 ° compleanno. Il 15 Agosto, Excalibur ha avuto 10.000 fan nel Motocultor Festival in Bretagna.