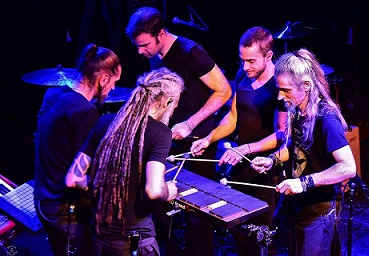 LAZULI 2019
Lazuli is a band originating from southern France that was formed in 1998 by Claude and Dominique Leonetti. Their style combines the typical sounds of progressive rock with world music and electro music.
Lazuli's music is a clever mixture of musical styles that visit new territories using unusual instruments like the marimba, the French horn, percussion, etc., but, above all, making use of a unique instrument, invented by Claude Leonetti: the Léode (a mix between a guitar and a synthesizer) because he lost the use of his left arm following a motorcycle accident.
For the Lazuli, the songs are the canvases on which colors are mixed to paint one's world. The tone of floating voice, plays with words, and makes the "man" come out in all its facets. Lazuli brings atypical notes of originality to the French music scene and now leads all this beyond its borders to Veruno.
Current line-up:
Claude LEONETTI: Léode Chœurs
Gédéric BYAR: guitar
Dominique LEONETTI: Voice, guitar, Mandolin
Romain THOREL: Clavier, French Horn, choirs
Vincent BARNAVOL : Drums, Percussions, choirs