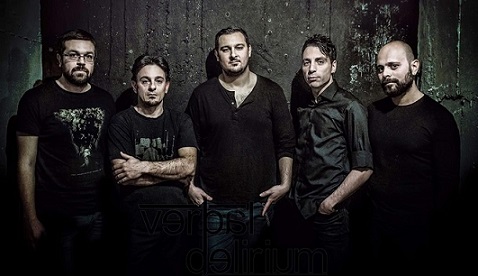 VERBAL DELIRIUM
In 2006, after years of experiments around the seventies psychedelic sound, the author and composer Jargon gave birth to Verbal Delirium.
In the same year, the band recorded a demo album. The first official album ("So Close & Yet So Far Away") was released in 2010 and received excellent reviews from critics.
Many live shows followed, including an extraordinary performance at the European contest "Eurock Marathon 2012″ in Berlin.
The second album "From The Small Hours Of Weakness" (2013) reveals a more dark and experimental atmosphere, the result of the interest of the group to explore new musical horizons.
The band also participated in important live events in Europe. For example, Prog Power Europe (October 2013) in the Netherlands and the Summer's End Festival (September 2014) in the United Kingdom.
The third album ("The Imprisoned Words Of Fear", 2016) still follows in the footsteps of the "progressive rock school" of the 1970s, but integrates jazz, metal and electronic tracks. This work too was a great success, allowing the band to perform in various other European contexts.
Line-up:
Jargon: keyboards/vocals
George Pagidas: bass
George Kyriakidis: guitars
Wil Bow: drums
Stratos Morianos: keyboards
Leonidas Petropoulos: producer/sound engineer