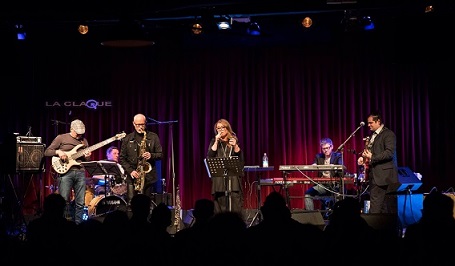 UNIVERSAL TOTEM ORCHESTRA
Universal Totem Orchestra was founded in 1997 by drummer Uto Giorgio Golin, "Dauno" Giuseppe Buttiglione on bass and the Spanish opera singer Ana Torres Fraile. The intent of the band is to give life to a particular musical project in the field of progressive music.
It is composed and recorded "Alien Ritual" produced by the Black Widow Record Label. The CD / LP involves various musicians from the jazz, rock and fusion scene of the Trentino Alto Adige region, including Antonio Fedeli on sax and Gianni Nicolini on percussion. The Opera immediately met with great success in both the Italian and world-wide progressive scene, so much so that the Orchestra performed in important festivals ("Burg Herzberg Festival" in Germany), theaters and clubs ("Bloom" of Mezzago).
Ten years later, Universal Totem Orchestra is enriched with three new members: Daniele Valle on guitar, Lorenzo Andreatta on bass, (succeeding "Dauno" Giuseppe Buttiglione leaving the group for health reasons) and Fabrizio Mattuzzi on keyboards / piano.
2008 is the year of "The Magus" always with Black Widow. The record is welcomed by critics, to the point of receiving the "Darwin Prize for Italian unconventional music". Later they collaborated on the compilations "Not of this heart" with the song "Lacrima di tempo" and "Daze of the underground" with the piece "Alien", always produced by Black Widow.
The UTOs are also guests with "Infinity City" in the album "Healthy Music in Large Doses" by the Californian group "Spirit Burning", alongside numerous international guests including the guitarist Daevid Allen of the "Gong".
In 2016 the last work of the Orchestra is published, "Mathematical Mother" published and distributed, like the previous ones, by Black Widow Record. In this record the band exalts the symphonic and jazz-rock component, still noting the style that has always characterized the peculiarity and the UTO musical path.
Currently the group is promoting the live activity thanks to the artistic direction of its co-founder and former bassist "Dauno" Giuseppe Buttiglione and the new bassist Fabrizio Visentini, who took over from Lorenzo Andreatta.
Line up:
Uto Giorgio Golin: drums
Ana Torres Fraile: opera singer
Fabrizio Visentini: bass
Fabrizio Mattuzzi: keyboards/piano
Daniele Valle: guitar.
Fedeli Antonio: saxophone