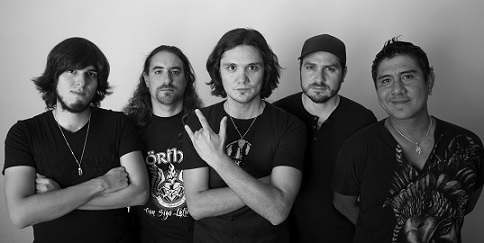 FLOR DE LOTO
Flor de Loto is a Progressive Hard Rock / Fusion band from Peru, with a long history behind it starting in 2005 with the album "Flor de Loto", until 2018 with the tenth "Eclipse".
The latter was produced by Roy Z, who also worked with Judas Priest, Bruce Dickinson, Yngwie Malmsteen, Helloween, Angra and many others.
The band has been part of many festivals such as Crescendo (France 2008 and 2016), Baja Prog (Mexico 2007), Festivalternativo (Mexico 2015), Río Art Rock Festival (Brazil 2006 and 2009), Virtual Fest and La Plata Progfest (Argentina 2012 , 2013 and 2014), Crescendo Guyane (French Guyane 2016) Andes Prog (Chile 2013 and 2015) and ROSFEST (USA 2018).
They shared the stage with names such as Paul D'Anno, Within Temptation, Orphaned Land, Focus, Sonata Arctica, Tony Levin's Band, Hawkwind, Mr Big, Angra, PFM, Saurom, Brand X and Threshold.
They also collaborated with the famous singer Fabio Lione (Rhapsody, Angra, Vision Divine), who recorded a song on their eighth album "Arbol de la Vida".
They were also honored as "Band of the Year" in 2011 by an important Peruvian newspaper (El Comercio) and received the "Metal Album of the Year" award in 2016.
Line-up:
Alonso Herrera: Lead Guitar/Vocals
Alejandro Jarrín: Bass Guitar
Gabriel Iwasaki: Keyboards
Alvaro Escobar: Drums
Sergio "Checho" Cuadros: Wind Instruments