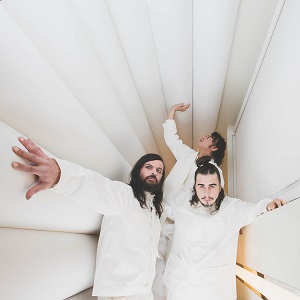 THE WINSTONS
The WINSTONS are three brothers: Linnon Winston (the one with the mustache), Rob Winston (the tall one) and Enro Winston (the one with the long hair).
They present themselves live as the best time-machine of the sixties and seventies to date. But beware: they are not revival, they are a soul of pure rock'n'roll style. Their instruments are old, smashed, dusty, and they indulge in the electric guitar, in spite of the nineties grunge upsurge. They made their debut with a very successful and acclaimed Canterburian album (The Winstons, AMS record), which was followed by concerts, happenings and shamanism. Hence a live DVD (Live in Rome) that captures the image of the first glorious sold out tour. Robert Wyatt recently listened to it with great glee on his stereo. Then a forty-five laps in homage to English post-punk with the cover of Golden Brown by the Stranglers and finally a "cultured" release with the revival of Pictures at an Exhibition by Modest Mussorgskij. Now the power trio, armed with strength and promulgator of ancestral anarchy, has released a new album entitled "Smith". Special guests were great friends Nic Cester of Jet, Mick Harvey of Bad Seeds and alongside PJ Harvey, Richard Sinclair of Caravan, Rodrigo D'Erasmo and Federico Pierantoni.
Line-up:
Enrico Gabrielli: keyboards, woodwinds, vocals.
Roberto Dell'Era: bass, guitar, voice.
Lino Gitto: drums, keyboards, vocals.