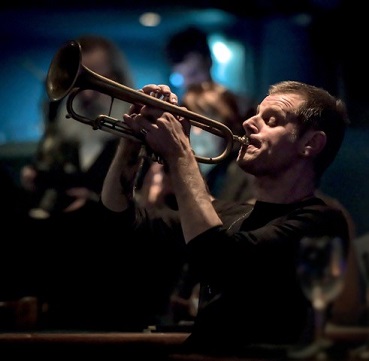 FABRIZIO BOSSO
WE4 "THE NEW ALBUM IN QUARTET BY FABRIZIO BOSSO
We4 is the latest recording effort by the Fabrizio Bosso quartet, released in November 2020 by Warner Music. An album that fully expresses, in sound, interplay and writing, that idea of ​​total sharing that has been the stylistic code of Bosso's musical thought for years.
Recorded in Rome, June 5, 2020, immediately after the forced confinement due to the coronavirus epidemic, We Four is not only the result of a need, of a desire to continue making music despite everything, but also a job without any post-production artificiality, within which every detail is the result of a common contribution, which elevates the quartet itself to the authentic leader of the project.
Julian Oliver Mazzariello on piano, Jacopo Ferrazza on double bass, Nicola Angelucci on drums and Fabrizio Bosso on trumpet, met in the studio and celebrated a partnership, human and musical, perfectly declared in the title of this new work. The search for a collective and identity sound continues, here expressed in a repertoire composed mainly of pieces bearing the signatures of all four.
Spring 2017: "This is the sound of my present and they are, as well as friends, also the musicians who satisfy me most on stage, because they are able to bring out the sound I have in my head". These are the words of Fabrizio Bosso in the liner notes of the previous double live "State of the art",  the happiest still image among in the career of the Turin trumpeter. And it is in that "present" that has never crystallized in the past, indeed, flourishing and vibrant over time, that "WE4″ sees the light.
Line-up:
Fabrizio Bosso: trumpet.
Julian Oliver Mazzariello: piano.
Jacopo Ferrazza: double bass.
Nicola Angelucci: drums.