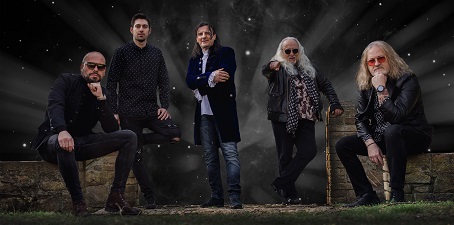 ROVESCIO DELLA MEDAGLIA
ROVESCIO DELLA MEDAGLIA was born in Rome in 1970 by the guitarist Enzo Vita to which Stefano Urso on bass and Gino Campoli on drums are added. After several searches, the powerful singer Pino Ballarini joins the band.
Unlike many bands of the time (PFM, Banco, Orme, Osanna etc …), Il Rovescio della Medaglia does not have a keyboard player and offers direct rock with a strong live impact. Equipped with great technique, they participate in numerous avant-garde and new trends festivals throughout the peninsula.
In 1971 they were signed by RCA to record their first album: "La Bibbia". The result is a record that is a real rock bomb, obtaining the triumph of critics and audiences.
In 1972 the second album comes out 'Io come Io', inspired by Hegel's philosophy. They then start touring Italy (even abroad) for concerts with their huge instrumentation, for the time having over 10 thousand watts of power was a prerogative reserved for a few groups, in fact the spectators were hit by an avalanche of sound. that overwhelmed and involved them.
In 1973, Luis Enriquez Bacalov, famous conductor and composer of many film soundtracks (Oscar winner with 'Il Postino' by Troisi), contacted the boys of the Rovescio to compose and record a record that merged rock and symphonic music. For Bacalov it was the third experience, after the successes with the New Trolls (Concerto Grosso) and the Osanna (Milano calibro 9). Thus was born 'Contaminazione'.
But this is another story that we will hear tomorrow !!
To propose the new live album, a keyboardist, Franco Di Sabatino, also enters the lineup. But unfortunately their shooting with the instrumentation was stolen, and even if the most famous groups of the time organize a concert in their favor at the Piper in Rome, the band lost hits and in 1976 the Rovescio della Medaglia breaked up.
Enzo Vita, the founding guitarist, thus begins his session man career collaborating with many Italian artists such as Alan Sorrenti and others, and in 2011 he decides to take up the RDM again by publishing 'Microstorie', which will be followed in 2016 by 'Tribal Domestic' . Last year the live album 'Contaminazione 2.0′ was released, recorded during a 2018 concert in the 1200 (roofless) abbey of San Galgano near Siena, with a string quartet and Vittorio De Scalzi as a guest of the New Trolls.
And just in September "La Bibbia 50th Anniversary" will be presented in Veruno, on the occasion of the 50th anniversary of the publication of 'La Bibbia' enriched by three bonuses sung in English.
Line-up:
ENZO VITA: guitar.
Nicola Costanti: keyboards and solo voice.
Davide Pepi: guitar and voice.
Marco Pisaneschi: drums and lead vocals.
Andrea Castelli: bass.
Massimiliano Nardozza: audio technician and Vee Jay.