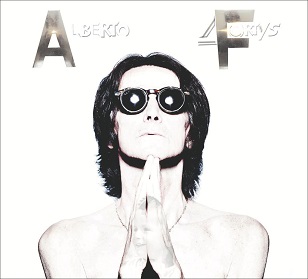 ALBERTO FORTIS
ALBERTO FORTIS, born in 1955 in Domodossola, plays with music as a child. At thirteen he is a drummer for a band, at sixteen he appears for the first time on TV.
Just the music listened to, played and composed, will be the background of the classical maturity, of the medical studies and of his life.
His recording debut was in 1979 with the album "Alberto Fortis" where he was accompanied by the Premiata Forneria Marconi and with which he immediately achieved great success.
Alberto quickly wins the affection of the public with songs such as "La sedia di lillà", "Il Duomo di notte", "Milano e Vincenzo", "Settembre" and "La neña del Salvador" which consecrate him among the great protagonists of music. Italian.
Sixteen albums made in Italy, the United States and England, one platinum, two gold and over one and a half million records sold.
But we would like to dwell on Tra demonio e santità is the second album by Alberto Fortis released in 1980. It is a concept-album in the tradition of progressive music, focused on the interaction and dialogue between good and evil. The suite that gives the disc its title was born from the reworking of È perhaps vita, a song by Fortis transcribed by Giorgio Santiano.
The album was also mentioned by Vasco Rossi in his song Siamo solo noi… (in the verses "Siamo solo noi / quelli che tra demonio e santità è lo stesso, / basta che ci sia posto").
He has collaborated with famous artists such as George Martin (producer of the Beatles), the London Philarmonic Orchestra, PFM (Premiata Forneria Marconi), Claudio Fabi, Lucio Fabbri, Gerry Beckley (of America), Carlos Alomar (producer of David Bowie), Bill Conti , Guido Elmi and the Arturo Toscanini Symphony Orchestra.
Concerts and direct contact with the public are strong points of his career, both in performances for piano and voice, and in concerts with complete musical formations; Alberto arouses enthusiasm and participation in the most heterogeneous public. And in Veruno he will present himself in the piano and voice version, but accompanied by a classical ensemble composed of some of the musicians of our Orchestra del Settembre Musicale Verunese, directed by Maestro Claudio Fabi!
And maybe with other surprises …