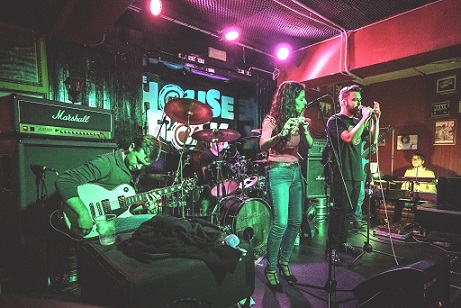 OUVERTURE
Overture was born from the ashes of the Sons of the Rascals in January 2010. The founders are Simone Desogus (drums), Samuele Desogus (guitar), Mattia Serra (keyboards, vocals), Salvatore Sassu (flute, guitar) and Stefano Sanna (bass ).
Despite the different musical tastes of the singles, they find in the progressive rock genre the sound capable of satisfying and characterizing their own original pieces.
The current line-up – consisting of Samuele Desogus (guitars), Stefano Sanna (bass), Fiorella Piras (flute), Simone Meli (keyboards), Simone Desogus (drums) and Luigi Ventroni (vocals) – starts working on the recording of first album "Overture", which sees the light on March 9, 2018. The disc contains an introduction and five unreleased tracks that summarize the style of the components. It is entirely self-produced and edited by group members at all stages: composition, recording, mixing and mastering. The disc's artwork is the work of Mauro Mondiello.
Overture pours into each of their pieces a cure and a deep love almost palpable during their shows.
In live performances, their repertoire boasts original songs of their own unmistakable prog flavor and numerous covers by Jethro Tull, Genesis, King Crimson, PFM, Camel and others.
Line-up:
Samuele Desogus: guitars
Stefano Sanna: bass
Fiorella Piras: flute
Simone Meli: keyboards
Simone Desogus: battery
Luigi Ventroni: voice.