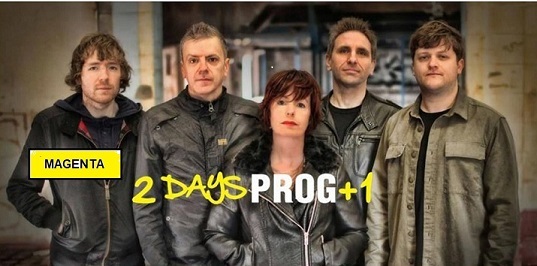 MAGENTA
MAGENTA was born in Cardiff (Wales) in 2001 as a solo project by Robert REED (a talented keyboardist and composer who had worked in several prog bands such as FYREWORKS, CYAN and TRIPPA). Reed decided to join Christina Murphy (now Christina Booth), an incredible singer who has a little bit of Stevie Nicks, with the brilliance of Annie Haslam as well as, of course, her own unique style and releases "Revolutions", a double concept album.
The record receives an excellent response and by popular demand Reed decides to set up a real band to be able to participate in concerts, as requested by the fans.
Their debut album "Revolutions" blends the spirit of the 70 symphonic bands with the perfect 21st century production, it is easy to find references from YES, GENESIS and even Mike OLDFIELD, a very ambitious project that has satisfied the demanding British critics.
Magenta's second album, Seven, was released in March 2004 and sold out since its first release in four weeks. Just as the third chapter of this fantastic band has also received excellent reviews.
As they wrote about them, MAGENTA is a new alternative for those who want to listen to a good progressive band that is not afraid to create wonderful music using the influence of the musical heroes of the seventies, with great class and great production.
"MAGENTA is the true color of progressive rock."
Line-up:
CHRISTINA BOOTH: Lead Vocals
ROB REED: Keyboards, Backing Vocals
CHRIS FRY: Guitars, Backing Vocals
DAN NELSON: Bass
'JIFFY' GRIFFITHS: Drums