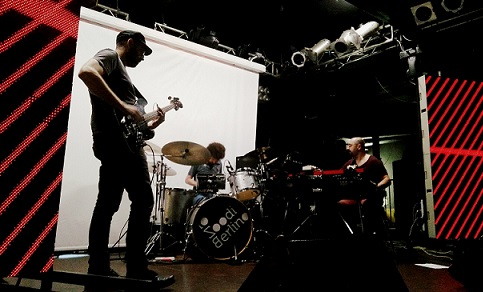 LO ZOO DI BERLINO
The Zoo di Berlino is a trio rock band: bass, drum and electric piano, no voice and guitar, it's an explosive and dynamic sound, combined with melodic and minimal moments, the result of refined research both compositional and soundtracks. They record, miss, burn and produce all their projects, including those on behalf of third parties. " The Zoo di Berlino is one of the most interesting realities in the Italian territory, able to create connections and collaborations with important Italian and non-Italian artists. In these years they have put together the best of our culture away from the spotlight, creating a musical and design profile where art and culture meet with rock. "(Goodfellas)".
Psychedelic, geometric post-rock (…) with Absolute freedom to improvise and experience unconventional zappy solutions. (…) to point North to the future. " Gabriele Pescatore / PugnoSavaggio.
"A fulminating debut that has all the elements to arouse some attention. A fiery and technical mix of post rock, math, experimentation and psychedelics (…): the album really likes it from start to finish. " Gianluca Polverari / Rockerilla.
"Imagine the NEUs playing with KING CRIMSON (…) a mixture of rage and wisdom. The ZOO feeds the blade and expresses ideas and heart. " Gianni Della Cioppa / Classic Rock Magazine.
"They are the authors of an absolutely unique mix between post rock like Area / Zappa. A group of the most interesting among those I've heard recently. " Fabio Zuffanti.
"Working with them, in the production of my piano solo album," Area, Piano Variations ", has been the most beautiful experience of my life." Patrizio Fariselli (AREA – International POPular Group).
Line-up:
Andrea Pettinelli – hammond, rhodes piano, synth
Diego Pettinelli – bass
Mauro Mastracci – drums
With Special guest