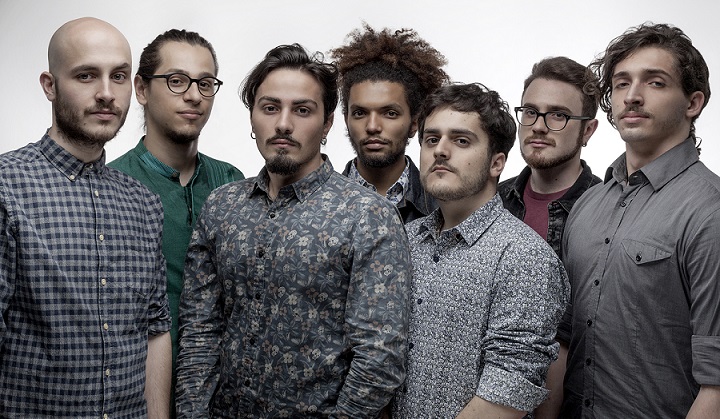 INGRANAGGI DELLA VALLE
The " Ingranaggi della Valle " are an Italian progressive rock group composed of young musicians, formed in Rome in 2010. The band was born from the musical encounter between Mattia Liberati (keyboards) and Flavio Gonnellini (guitar), together with Shanti Colucci (Drums), Marco Gennarini (violin), Igor Leone (voice) and Edoardo Arrigo (bass) work right from the beginning to the concept and songs of their first album "In Hoc Signo" related to the progressive-rock sound of the '70s. While working on the album, the band has the pleasure of hosting the drummer Mattias Olsson (Änglagård, White Willow, Pineforest Crunch, Gösta Berlings saga, Necromonkey) and the great David Jackson (Van der Graaf Generator) at the saxophone. The album is released on May 10, 2013 from the independent Genoese label Black Widow Records. On May 16 of the same year the band won the "Musiche Festival" prize, organized by the City of Rome and performed at the Atlantic Live. Just 4 months after the release of "In Hoc Signo", the first print run runs out and Black Widow Records decides to reprint the album. Between 2014 and 2015 will be printed 3000 discs and the band performs live for all the boot, between live clubs and festivals (FIM, Progressive Live Experiment, Newintage Prog Festival). In this period they join the band Alessandro Di Sciullo (guitars and keyboards), Antonio Coronato (bass) and Davide Savarese (voice). Since January 2015, the band started working on the new album, "Warm Spaced Blue", premiered at the Music Day Estate at Monk in Rome on June 25, 2016. Written and arranged by Mattia, Flavio and Alessandro between Winter 2014 and 'Autumn 2015, the album was recorded in March 2016 at StudioSETTE in Rome. By breaking away from the jazz-rock matrix of the first album, the band is experimenting with new compositional modes using a wide variety of instruments: from the most classic Mellotron, Moog, Hammond, guitars and violins to the less commonly used genres such as Roland drum machines or Akai MPC samplers . The new work sees the extraordinary participation of Goblin's Fabio Pignatelli in one of the tracks that will be released under the Black Widow Records label in the fall.
LINEUP 2017:
Davide Savarese – vocals, glockenspiel and Mellotron M4000
Mattia Liberati: Hammond B3, Mellotron M400, Mellotron M4000, Fender Rodhes Mk V, MiniMoog, MiniMoog Voyager, piano and backing vocals
Flavio Gonnellini: electric guitars and backing vocals
Alessandro Di Sciullo: electric and acoustic guitars, Moog Minitaur, Mellotron M400, Mellotron M4000, Roland TR 808 and TR 909, Akai MPC Touch, Korg Kaoss Pad KP 3, electronics, backing vocals
Marco Gennarini: violins and backing vocals
Antonio Coronato: electric bass
Shanti Colucci: drums and percussions.