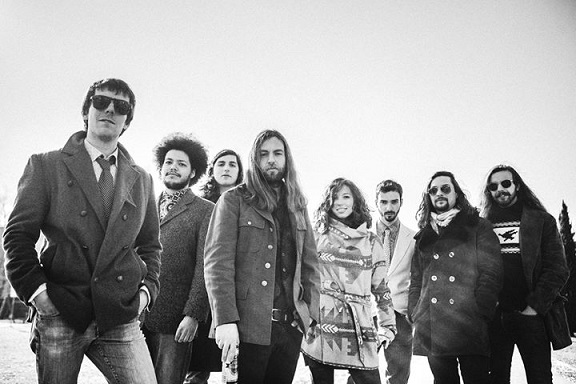 MAD FELLAZ
MAD FELLAZ is an independent band from Bassano del Grappa (Vicenza) Italy, featuring entirely original self-produced tracks. The pieces come from the great suggestions of the great past, such as King Crimson, Gentle Giant, Pink Floyd, Mutual Rescue Bank, Yes, Jetro Tull and recent bands such as Opeth, Porcupine Tree, Tool, Beardfish and many more. Although the main influences come from the progressive rock, the Mad Fellaz refuse to crystallize into a genre already codified and accept the genus in its deep nature, that of evolution and continuous search which is the result of a mixture of different styles ( Rock, blues, fusion, jazz, classical, metal, latin or tribal …) with the aim of creating independent and innovative music. Mad Fellaz is a group of young musicians born in 2010 as an anonymous experimental trio formed by Paolo Busatto and Emanuele Pasin on electric guitars and Marco Busatto on drums. Soon they join Carlo Passuello on the bass, Enrico Brunelli on keyboards and synth and Rudy Zilio on the flute, clarinet and wind synth.
In August 2012, the band recorded a demo containing La giungla (The Jungle), a 15-minute composition featuring rock language and typically tribal rhythms, creating a very engaging dynamic and emotional tension.
In May 2013, Mad Fellaz recorded their first album (the same name) which includes five pieces for a total duration of one hour. Two long suites (Il colpevole pt.1, Il colpevole pt.2) followed by a short, police-style piece (Banda Scavejoni) that breaks the rhythm of the record. Then a bluesy song (White Widow) and finally La giungla. The album was very successful with direct selling of about 700 copies, while another 300 copies were sold abroad (Japan, Russia, USA, Holland, Germany, France, etc.) via the website of the store "Pick Up" disks. During 2014, training is widening and evolving. In place of Emanuele Pasin, takes over metal guitarist Jason Nealy ; the percussion of Lorenzo Todesco and the voice of Anna Farronato are added to the organ. The band then starts working on the new project, the second album titled "MAD FELLAZ II", recorded in October 2015 at Luigi Stefanini's New Sin Studio (Loria, TV) and released in February 2016. The new album is currently being broadcast on progressive rock radio in Holland, United Kingdom, France, Italy, California and has got excellent reviews from industry experts. At 9 months from Mad Fellaz II's exit, after having achieved excellent results as sales and live performance as the great success at the Rome "Progressivamente Free Festival" in 2016, Anna Farronato and Jason Nealy decided to leave the band for personal reasons. Nothing is lost even if the period is not the best and they immediately start working to develop new material in view of the third album and finally succeed in recompile the training by inserting two talented musicians with remarkable experience behind them, respectively Luca Brighi -voice and Ruggero Burigo on the guitar.
Line-up:
Paolo Busatto – guitar
Marco Busatto – drums
Carlo Passuello – bass
Enrico Brunelli – keyboards, sax
Rudy Zilio – flute, clarinet, keyboards
Lorenzo Todesco – percussions
Luca Brighi – vocals
Ruggero Burigo – guitar