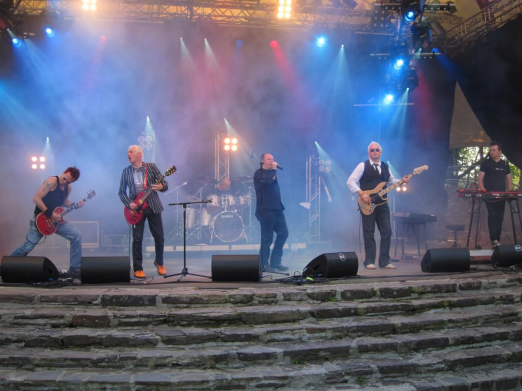 Galahad
Galahad formed in 1985 just for fun playing half covers (Genesis, Zeppelin, Rush, Sabbath,
Focus, Marillion etc) and half original material. Galahad then supported a few fairly well known
'Progressive' bands that were coming up at the time including IQ, Pendragon, Haze and later
Pallas and Magnum.
Galahad decided take it more seriously, and began playing only original material resulting in the
release of their first proper album in 1991, 'Nothing Is Written'. The success of 'Nothing Is Written'
was also helped by the fact that the band received substantial air play on BBC Radio One,
especially on the Radio One Rock Show hosted by the late, great Tommy Vance. The band then
landed themselves with deals in the UK, Japan and Germany.
The band has now released fifteen albums, and has played hundreds of gigs in the UK, Europe
and America over the last few years, at times in some very unusual venues!
'Empires Never Last' , which features Karl Groom (Threshold) on engineering duties, was released
in 2007 and took the band in a heavier, more muscular, guitar orientated direction. This more
contemporary, metallic approach seems to have worked as 'Empires' has proved to be the band's
most successful album to date, both commercially and critically, and has resulted in them winning
album of the year at the 2007 Classic Rock Society awards.
'Battle Scars', again recorded at Thin Ice by Karl Groom was released in April 2012 and takes the
band further in to a heavy/rockier direction but mixing it up with a few more overt modern
dance/trance and classical influences. 'Beyond the Realms of Euphoria', the second album
recorded at the same time was released in October 2012.
A comprehensive biography entitled 'One For the Record – The Official Biography of Galahad'
written by Andrew Wild was published in April 2013 documenting the history of the band from 1985
to the end of 2012.
Galahad
Stuart Nicholson: vocals
Roy Keyworth: guitar
Spencer Luckman: drums
Dean Baker: keyboards
Mark Spencer: bass, guitar