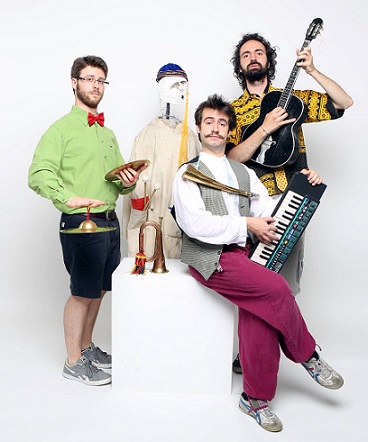 feat. Esserelà
Italian instrumental trio from Bologna, founded in September 2009, under the unique and profound inspiration of the Esserelà, a mannequin always present at rehearsals and concerts, the undisputed protagonist of every musical and worldly event, author of the most introspective lyrics and designated leader of the band. They played a genre called ProgRockJazzFusionFunkAcid, with an everlasting name to confuse the viewer and hide the fact that, all in all, they play Progressive Rock. Over the years they accumulate many concerts, enjoying unanimous success with the public, when present.
After a few years they recorded their first album entitled "Tuorl", which was released in 2015 by Joe Frassino Records and Lizard Records, and received excellent feedback. Following the release of the album, they increase their live activity, mainly in Northern Italy, also participating in important festivals such as the Rassegna di Musica Diversa – Tribute to Demetrio Stratos (2015 and 2017), Miscela rock festival 2017, Verona Prog Fest (2016 and 2018) and opening concerts by Marta sui pipes, Deus Ex Machina, Fabio Zuffanti, Seven Impale, Wobbler and Confusional Quartet.
Together with the latter was released in May 2018 a 45 rpm vinyl, one side to the head.
In 2015 they wrote an original soundtrack, performed live, for the silent film "Shoulder Arms" (C. Chaplin, 1919), forthcoming.
In 2016 they released a live concert "Live @Guardassoni", recorded and filmed live and available on Youtube.
In June 2019 the second album, "Disco Dooro", was released, with heavier sounds and also produced by Joe Frassino Records in collaboration with Lizard Records. The publication is also accompanied by a special Japanese edition for the related tour (called "Arigatour") in the Rising Sun concluded in August 2019.