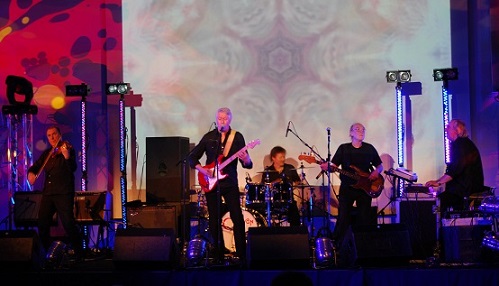 CARAVAN
Caravan are an English progressive rock band formed in 1968 in Canterbury, Kent. Their musical style combines pop music with jazz rock and psychedelic rock.
Together with the Soft Machine, they represent the two main strands of the musical current known as the "Canterbury scene". The band, the progenitor of the melodic vein of this movement, has influenced several progressive bands of the seventies, such as the Camels.
The group was founded in 1968 by Richard Sinclair (bass and vocals), Pye Hastings (guitar and vocals), Dave Sinclair (keyboards) and Richard Coughlan (drums). In almost all the works of the Caravan will contribute as a guest Jimmy Hastings, saxophonist and flutist Pye's brother, without ever becoming an official member of the band.
For his innovative modules the training was popular in the underground environment of psychedelia even before having made any record product. Characterized by the Hammond organ by Sinclair, the debut album presented the strength of melodic passages with a mixture of jazz and psychedelic rock, but with the following album, widespread in particular in the environment of university students, the alchemy of progressive sounds was born. in which they found symphonic rock, jazz and traits of the English musical tradition. The third, In the Land of Gray and Pink, saw the amalgamation of the previous styles with elements of hard rock and folk, in a framework that recalls ingredients of the fantastic environment of Tolkien.
The alternation of Steve Miller's keyboards in place of Sinclair produced a decisive stylistic deviation of the group towards jazz, with unusual harmonizations, while in the following production they found first of all a symphonic approach and then a shift towards pop.
Line-up:
Pye Hastings: lead vocal/guitar
Geoffrey Richardson: violin, guitar, spoons etc
Jan Schelhaas: keyboards
Jim Leverton: bass
Mark Walker: drums