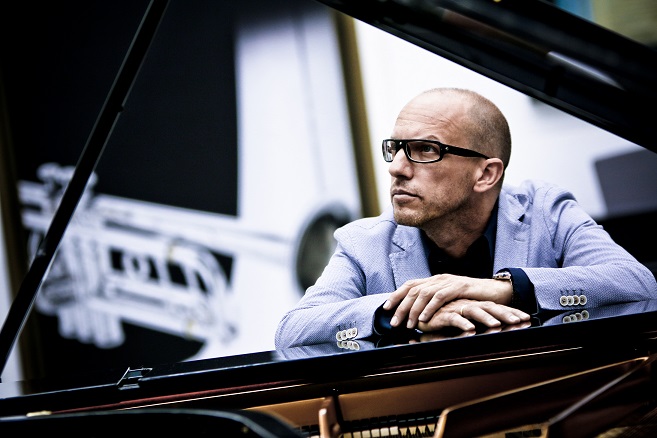 ANTONIO FARAO' TRIO
The extraordinary pianist Antonio Farao 'brings together an exceptional Trio with Yuri Goloubev and Max Furian.
Authentic spearhead of the international jazz scene, pianist admired by Herbie Hancock, he has played with the most prestigious artists (Joe Lovano, Didier Lockwood, Miroslav Vitous, Jack Dejohnette, Chris Potter, Benny Golson, Ivan Lins …) .. Antonio Faraò is to be placed undoubtedly among the European musicians who have reached an expressive standard at the level of the Americans. His style is unmistakable: a technical brilliance with an impetuous emotional charge, a remarkable compositional vein and an overwhelming sense of rhythm.
In 1998 he received the most prestigious of awards: the first prize at the "Martial Solal International Jazz Piano Competition", organized by the City of Paris. An event that launched Faraò even more intensely in the European circuits of contemporary music, and led him to record, after some records produced in Italy, various leading albums for the important German label Enja Records such as "Black Inside" in 1998 with Jeff "Tain" Watts and Ira Coleman or "Thorn", in 2001, in which Faraò is accompanied by Jack DeJohnette, Chris Potter and Drew Gress.
Antonio Faraò has been invited several times by Herbie Hancock to participate in the International Jazz Day, a world jazz event organized by Unesco and the United Nations together with Brandford Marsalis, Kurt Elling, Wayne Shorter, Marcus Miller, Al Jarreau … and many others. In his latest album Eklektik (Warner Music) he invites several world famous artists such as Snoop Dogg, Marcus Miller, Bireli Lagrène and many others.
"I don't often get surprised by recordings of musicians, as I was when I first listened to one of Antonio Faraò's latest CDs. What struck me was the feeling I felt inside of me. There is so much warmth, conviction and grit in his playing. I was immediately attracted to his harmonic conception, the joy of his rhythms and his sense of swing, the grace and candor of his improvised melodic lines. Antonio is not only an excellent pianist, he is a great "Herbie Hancock.
Antonio Farao ': piano
Yuri Goloubev: double bass
Max Furian: Drums