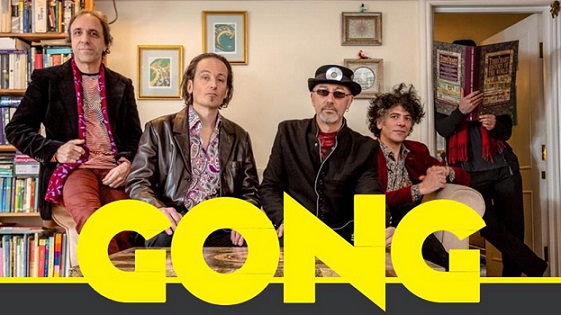 GONG
The constantly metamorphosed entity called GONG launches itself into new territories with a tour destined to make people talk, discuss and even argue. Among the stages of the trip, the team has also set one in Italy: Saturday 3 September 2022 at 2Days Prog +1 in Gattico-Veruno (NO).
From its beginnings within a French commune in 1967 and through the Virgin Records years, of mismanagement, court cases, breakups and reunions, deaths and rebirths, the common thread of beautiful, dangerous and extraordinary music has always been well present. The current holders of the flame have come together for the past eight years: curvy bassist Dave Sturt joined just as the 2032 album was released; Ian East (saxophone, flute) was the next member to cross the portal; Fabio Golfetti brought his guitars from Brazil (after having worked with Daevid Allen for many years); Kavus Torabi (lead vocals and guitars) appeared to Daevid in a vision; Cheb Nettles (drums) arrived suddenly. GONG's diverse musical worlds include psychedelic nuance, space rock, jazz, avant-garde, krautrock and surreal soundscapes.
In 2015 Daevid Allen passed away. His influence and legacy were honored on the line-up's first album after his departure, Rejoice! I'm Dead! (2016). In recent years GONG have performed alongside the Steve Hillage Band (also a member of the GONG line-up in the 1970s) and have released the highly acclaimed album The Universe Also Collapses (2019) and an incredible live album Pulsing Signals ( 2022) which immortalizes one of the band's creative peaks with songs recorded during the 2019 tour.
Line-up:
KAVUS TORABI: Vocals, Guitars
DAVE STURT: Bass
IAN EAST: Saxophone
CHEB NETTLES: Drum
FABIO GOLFETTI: Guitars