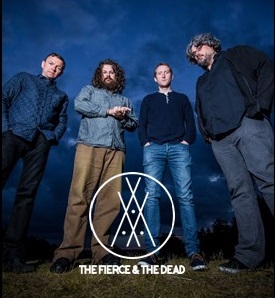 THE FIERCE & THE DEAD
The FIERCE AND THE DEAD is a psychedelic / stoner rock / progressive instrumental band from north London that have been part of the UK underground / post-rock / psychedelic / progressive rock scene for the past 9 years.
In 2018 their album The Euphoric was considered the Prog album of the year by Classic Rock Magazine.
They have a loyal fan base and often play live, in the recent past with Hawkwind, PFM, Crippled Black Phoenix, Evil Blizzard and Monkey 3 and have appeared at festivals across the US, mainland Europe and the UK, including Freak Valley, Prognosis, Arctangent, HRH, Kozfest, Ramblin Man and Rosfest.
They have released 3 albums, and are currently working on their fourth studio album with a select number of live performances in 2022, including the Veruno festival!
Line-up:
KEVIN FEAZEY: Bass, Keyboards, Production
MATT STEVENS: Guitars, Loops, Keyboards
STEVE CLEATON: Guitars, Effects
STUART MARSHALL: Drums