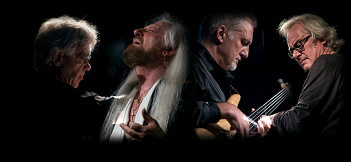 METAMORFOSI
The group was born in the late sixties, when the Sicilian singer and flutist Davide Spitaleri joined the band "I Frammenti". After two years of experience, and, with the name of Metamorphosis, in 1972 the first album is released :" E fu il sesto giorno". Above all, Spitaleri's powerful and expressive voice emerges in the album, enriching the typically late-beat songs, sometimes even naive, a little bitter but always pleasant.
With their first album behind them, the group plays at the Flaminio stadium in Rome as part of the 2nd Festival of Avant-garde Music and New Trends.
It is only the second album, Inferno, which forces the group to the attention of fans by consecrating them to the status of a cult band. Released in early 1973, it is a concept album inspired by Dante's Divine Comedy. The disc is dominated by the keyboards of Enrico Olivieri, creator of a sound carpet of great impact, with sometimes majestic arrangements well suited to the subject, with some dark veins.
Finally, the representation of the album in live concerts is also particularly sought after. The group shows up on stage wearing costumes that embody the vices of man. In particular, the singer, dressed in a red tunic with a white cross on his chest, evokes the great poet with a strong stage presence, who at the end of the concert is executed in the electric chair in the presence of a priest and soldiers. The album gets a good commercial response and is certainly to be counted among the masterpieces of the time in its genre.
Despite these good premises, the failure of the "Vedette" leaves the group without support and at the end of 1973, after an intense concert activity which culminated at the Palasport in Rome as part of the "Popular Music Festival", the group broke up.
In the 90s the keyboardist and the singer returned together with a new rhythm section, formed by Fabio Moresco on drums and Leonardo Gallucci on bass and acoustic guitar, and after several concerts, in 2004 the third album was finally completed and released. It is called Paradiso, and it is the natural continuation of the previous one.
Line-up:
Davide "Jimmy" Spitaleri – lead vocal, flute.
Enrico Olivieri – keyboards, vocals.
Roberto Turbitosi – bass, vocals.
Mario Natali – drums.
Luciano Tamburro – guitar.