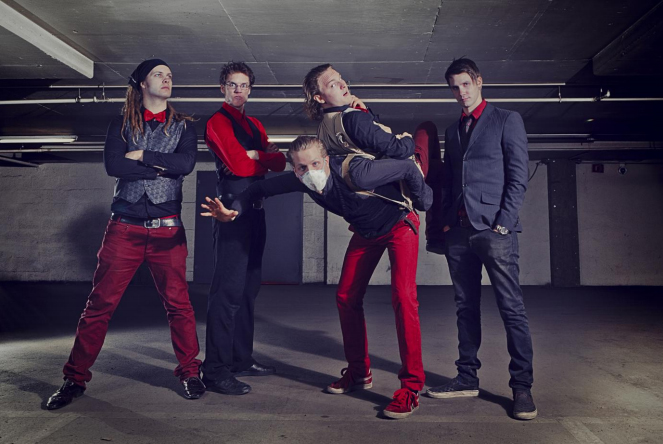 Leprous
With their album in 2011, "Bilateral" which has stirred the waters of the prog, and the debut labeled InsideOutMusic, the Leprous found themselves suddenly faced the daunting task of having to follow up and develop a true underground success that many fans and music critics had announced as a stroke of genius and a small masterpiece in itself.
The band has been working on several tours throughout Europe, with the heavyweights of the Finnish metal Amorphis and later in a proper tour as headliners. Subsequently, the band crossed the Atlantic Ocean to perform at ProgPower festival in USA. It is not a new situation for the band, but, mind you, because this Norwegian group was a bit 'as a tourism entity for many years, since the days of the self-financed debut "Eolia" or their album released in 2009 album " Tall Poppy Syndrome ", having made a support in countless concerts in heavyweights like Opeth, diehard progressive metal as Pagan's Mind and symphonic metal veterans like Therion, proving that musical boundaries can and must be broken.
Chosen as support band for the Emperor frontman Ihsahn and compatriot – a progressive black metal musician / Legend of law, Leprous have, despite their young age, already tried everything and it's no surprise that their music reflects these experiences. You can hear influences of Pain Of Salvation and King Crimson, as well as you experience the Shining (Norway) or Devin Townsend. We can also recognize traces of Katatonia and Opeth float around sparks of Porcupine Tree and Pink Floyd. The absolute pinnacle of their career, at this point, is still "Coal" – the new album released May 20, 2013 in Europe and May 28, 2013 in North America via InsideOutMusic. "Coal" was co-produced with Heidi Solberg Tveitan and Vegard Tveitan of Mnemosyne and mixed by Jens Bogren and mastered by Tony Lindgren at Fascination Street Studios (Kreator, Opeth, Symphony X, etc.) . Little time before publication, the singer and synth -player Einar Solberg commented, saying: "Being under heavy pressure with the feeling of having a huge mountain to climb in a very short time, leads you to have some sort of wild energy and indomitable. Free of all borders or other expectations, with your brain computer that is free from the chains. Only then can you walk a step towards honesty most extreme expression of your unique "Before reflecting adds:" With "Coal" I feel that we are one step closer to this honesty. In this registration process, many of the choices we made were based on impulsivity. However, when you're lucky enough to have skilled manufacturers of inspiration around you, they can help you achieve this level of complete honesty of your subconscious. If you have done too much evidence, you're not too sure of what you will do, it is difficult to recover the spontaneity of music that you had originally composed. If you can just press the record button when you play with this kind of energy, you have managed to capture something pure and true. "
And when asked to explain the nature of the new material a little 'more in detail, Solberg neutrally replied: "I see less reason to define the music in the creation of music, but I will give a brief overview of what to expect. "Coal" is an album more melancholic and darker the more playful "Bilateral".
With darker I do not mean more aggressive, but more intense. There is still a large dynamic range, but the jump between the different moods in a song. "
"Coal" is an album full of surprises and with a full flow intense. Through their first single "Chronic", a song halfway between a relaxed melancholy and drama almost as in a theater, Leprous lays the foundation of an album that has something new to offer; something that becomes evident as early as the third song, the title track of the album, where Leprous effortlessly combines a great prog rock with a more somber and minimalist.
By the standards of the Leprous, very melodic but very catchy songs like "The Cloak" or the anthem wonderfully well made "The Valley", they see the band in a new territory, while maintaining a sound quite experienced in the three previous works. Saying that ends Leprous "Coal" on a high note would be the 'understatement of the year, as "cContaminate Me" might just be the most complete song the band has ever written; a song of 9 minutes of true human emotional outburst – a song in which anger and despair is exemplified not only by the musicality of the band, but also by guest singer, icon of the black metal, Ihsahn.
To support the album also visually, the Leprous put on display a unique and important artwork of Jeff Jordan, who previously worked on "Bilateral" or other exceptional bands like The Mars Volta, and the designer Ritxi Ostáriz. With a number of interesting admissions to summer festivals (including major events such as Roadburn, Wacken, Hellfest, Tuska, etc.) the Leprous intended to support the release of the album, as well as through a full European headlining tour in September – November 2013.
The Leprous are determined once again to lead a public open-minded through the boundaries of a scene otherwise often too quiet, with a new release truly progressive …
LINEUP:
Einar Solberg (synth / vocals)
Tor Oddmund Suhrke (guitar)
ystein Landsverk (guitar)
rnes Tobias Andersen (drums),
Rein Blomquist (bass)