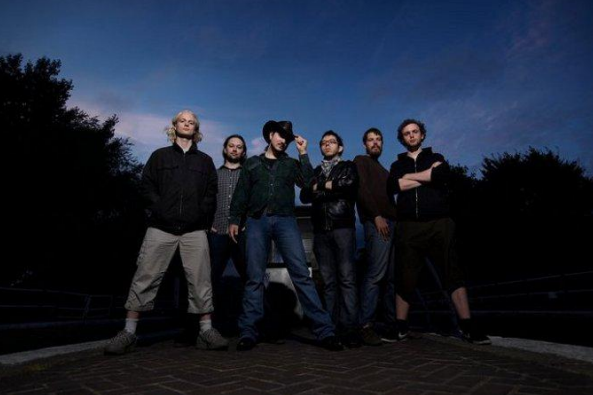 Haken
Introducing Haken, one of the most exciting sounds to emerge from the modern progressive
movement. Formed in 2007, Haken is a virtuoso and eclectic progressive rock/metal band from
London, England, comprising some of the country's finest young musicians.
Within months of their first show in July 2007, Haken were billed in support of Riverside (Inside
Out) at Camden's prestigious Underworld. Since then they have performed headlining sets to
packed houses around London, including several sold-out shows at "the best live music venue in
south-west London", The Peel in Kingston, and on the strength of these performances Haken were
selected to open for King's X (Inside Out) at The Wulfrun Hall in Wolverhampton and at Camden's
impressive Electric Ballroom in January 2009. Haken is fast becoming well respected within the
British metal community, and its unique and imaginative genre-bending approach has earned
praise from all corners of the globe.
Haken were honoured and excited to be invited to share the stage as the main support for Bigelf
on their first UK tour in October 2009, culminating in a sold out show at The Camden Barfly.
The members of Haken are established in their respective fields.
Richard Henshall (guitars/keyboards) – aka Hen's fret-board mastery is admired and respected
amongst London's guitar-elite. Hen's keyboard skills were recently employed by fellow prog-metal
band To-Mera in support of Pain of Salvation and Adagio. He has been a full time member of ToMera
since November 2007. Hen lives in a fantasy realm they call Nevrend, in a deep underground
cave where he can create his music in peace.
Charlie Griffiths (guitar) projects (past and present) include Linear Sphere, in support of Dream
Theater and Cynic, also runners-up in the 2002 Dream Theater song-writing competition, and
Anchorhead, personally acclaimed by Mike Portnoy. Charlie teaches at London's Guitar Institute
and writes for globally published Guitar Technique and Total Guitar magazines. Charlie is the legal
guardian of the remaining members of Haken. During Spring, he enjoys going down to the river to
catch as many salmon as he possibly can.
Tom MacLean (bass guitar) studied jazz guitar at Trinity College of Music and is also the guitarist
and writer in To-Mera with the additional experience of supporting Emperor and Dream Theater.
Tom enjoys long horse-back treks through Scandinavian mountain ranges in search of villagers to
rape and pillage.
Ray Hearne (drums) studies at the Guildhall School of Music. Ray won the 2008 'Origin8′ national
composition competition and consequently worked alongside producers associated with Kano,
U.N.K.L.E. and Queens of the Stone Age. Ray is also a phenomenal tuba player and enjoys
arranging and orchestrating sections of Haken's music for instruments usually unheard of in
rock/metal music. Ray enjoys being a massive bell-end.
Ross Jennings (vocals) has served many unsigned UK bands. Ross is respected for his
charismatic stage presence and diverse range of vocal styles which he uses to execute his words
with clarity and passion. He is particularly well known for his ability to eat large amounts of dirty
southern fried chicken before singing to really enhance his unique cowboy vocals.
Diego Tejeida is a keyboard maestro, composer and producer from Mexico, based in London.
He enjoys nothing more than to sit back on a sleazy brown leather armchair with a glass of tequila
in one hand, and a slice of Texican pizza in the other.March 2010 – Haken's debut album was mixed in Germany at Spacelab Studios (Delain, Everon,
Wolverine) by Christian Moos and mastered in Germany at Eroc's Mastering Ranch. Graphics
were created by Dennis Sibeijn at Damn Engine to tie in specifically with the Aquarius story.
Ken Golden the owner and MD of Laser's Edge said this about Aquarius:
"Haken's Aquarius arrived from the factory today. Looks and sounds great. Eroc did a great job
mastering this sonic beast. The band melds metal with progressive rock, drawing influences from
contemporary bands like Dream Theater and Shadow Gallery as well as "old school" icons
Genesis and Queen. Aquarius is their debut release – a 72 minute, larger than life conceptual scifi/fantasy
work filled with bombastic keyboard flourishes, stunning vocals, and lethal guitar work".
The album has received excellent reviews in Europe, Japan and The States.