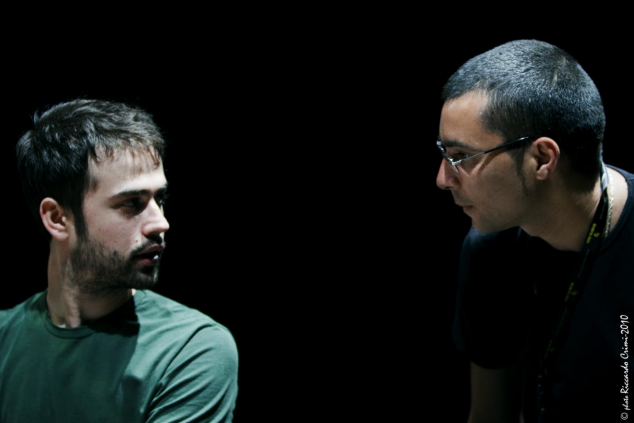 Gianluca Petrella e Giovanni Guidi Duo
Gianluca Petrella – Giovanni Guidi Duo
Giovanni Guidi: piano
Gianluca Petrella: trombone
If the state of health of an artistic movement is also measured by the ability of future generations to
get involved outlining new roads, you can be sure that the Italian jazz is living a moment of grace
absolutely unique.
Giovanni Guidi and Gianluca Petrella are two of the most convincing examples of this historical
period.
Today Giovanni Guidi is no longer a revelation: in a few years and by leaps and bounds he has
found his own way – made of single planning and a clear awareness in the artistic choices – which
is bringing him to assert himself, as well as a pianist, as an organizer of sounds of first choice. And
it is no coincidence that a musician, as Enrico Rava is, wanted Guidi by his side and hardly gives
up. And the same can be said for Gianluca Petrella, certainly one of the most recognized names in
recent years when we talk about not only jazz but – tout court – of the best lineage of musicians of
contemporary music.
Giovanni Guidi
Giovanni was born in Foligno in 1985. By attending summer seminars in Siena, he was noticed by
Enrico Rava, who inserts him in the group Rava Under-21, later transformed in in Rava New
Generation. With this group he recorded in 2006 the homonym Cd for Editoriale l'Espresso. He is
currently a member of the Rava NEW QUINTET.
In addition to the collaboration with Rava, Guidi is part of the Cosmic Band, directed by Gianluca
Petrella, the trio of Fabrizio Sferra and he is the leader of his own groups.
He has performed in various festivals: Umbria Jazz, Villa Celimontana Jazz Festival, Jazz Ubi,
Vicenza New Conversation, Zurich Nu Jazz, Fandango Jazz Festival, Umbria Jazz Balcanic
Windows, Stavanger Never Jazz, Vigo Jazz Festival, North Sea Jazz Festival. In the edition of
Umbria Jazz 2006, he appeared as artist in residence for 10 consecutive nights for very
enthusiastic crowds.
Gianluca Petrella
Gianluca was born in Bari in March of '75 and he graduated from the Conservatory of his city.
He collaborates with Enrico Rava, Roberto Gatto and Paolino Dalla Porta and their groups.
He has participated in numerous international festivals around the world among which stand out
the festivals of Montreal, Toronto, San Francisco, Chicago, Rio de Janiero, Oslo, London, Berlin,
Umbria Jazz and the Blue Note Jazz Club in Tokyo and New York.
He is also highly active in environments outside the jazz. In fact he collaborated with Manu Di
Bango, John De Leo, in a duo with Giovanni Lindo Ferretti as well as with the various projects
dedicated to electronics and the connected projects. In his "palmares" there is also an
extraordinary jazz version of the classic work written by Jon Lord for Deep Purple.
Numerous are the awards all around the world: best "new national talent" for "Top Jazz" Jazz
Music (2001), "International Award" for "Django d'Or" as the "best talent" Committee (2001), Artist
of the Year in the "Top Jazz" magazine "Musica Jazz" for 2005.
"Critics Pool", of "Down Beat" magazine, in the category "emerging artists" in 2006 and 2007 (the
first Italian in history), and in 2007 the conquest of Paul Acket Awards (better known as "Bird
Award") which was handed over at the prestigious Royal Conservatory of L'Aja, as "Artist
Deserving Wider Recognition".