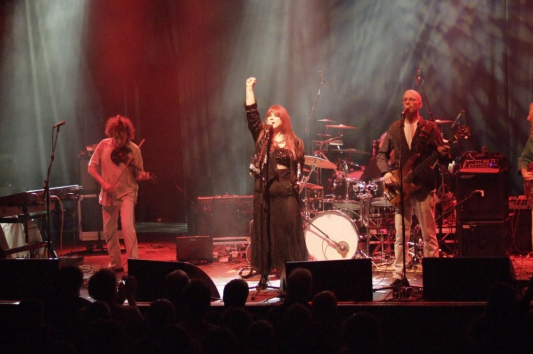 Curved Air
Curved Air is a pioneering British progressive rock group of musicians from mixed artistic
backgrounds.
They are famed for their unforgettable live performances and 'Art Rock' music – the quasi classical
imprints of Terry Riley hooked onto beautiful and demonic violin combined with electronic
adventurous synths and interwoven with brilliant guitar wizardry embroidered by the subliminal and
exotic presence of a unique girl lead singer Sonja Kristina. All these elements elevated them from
the underground Roundhouse scene to top the album charts in the early '70s.
Along with High Tide and East of Eden, Curved Air was one of the first rock bands after It's A
Beautiful Day and The United States of America to feature an electric violin, inspiringly and
dramatically explored by the excellent Darryl Way and now by the dynamic Paul Sax. Original
keyboard player/guitarist Francis Monkman was the trailblazer for future 'electronica' and ambient
extemporization. Robert Norton has inherited this sonic template and himself a spinner of ethereal
soundscapes extends the boundaries towards further horizons while Florian Pilkington Miksa on
drums then and now, with Chris Harris' bass guitar artistry, provides the expressive rhythmic pulse
that is the Curved Air signature.
Curved Air have to date released eight studio albums and though progressive innovators they
were hailed as Pop Stars when their single, the sultry "Back Street Luv" was a Top 5 hit in 1971.
The present line-up of Sonja Kristina, Florian Pilkington-Miksa, Kit Morgan, Chris Harris, Robert
Norton and Paul Sax have been touring together since 2009.
A new studio album , the first in 36 years. is due to be released worldwide by US label Cleopatra
Records in October 2013.