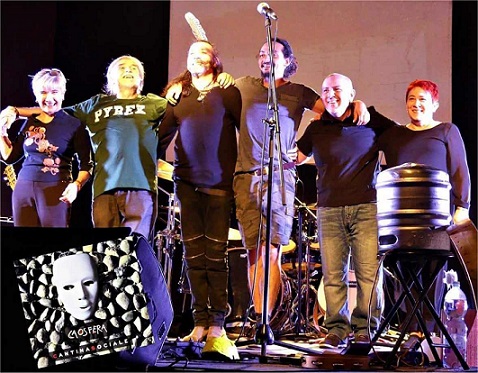 CANTINA SOCIALE
CantinaSociale was formed in 1996 with the aim of developing the sound of the alternative bands of the Seventies by adding personal research, as well as an original theatrical approach, to progressive rock.
The meeting with Beppe Crovella, producer and keyboardist of Arti & Mestieri, was the beginning of an important artistic path that led to the release of "Balene (c'è qualcosa di più)" in 2002, for which CantinaSociale won the Memorial Demetrio Stratos prize in 2003. Tracks from the same album appear in some compilations. In 2004 the band partecipated at the Kalevala project.
In 2006 a live DVD, "Catturati", was published.
The band's second album, "CUM LUX", was released in 2009.
After the release of Caosfera (Electromantic music) in 2017 which contains only instrumental songs, in 2018 Iano Nicolò come back as a singer of the band.
Currently CantinaSociale presenting the live "Casofera ed altri viaggi" and composing the songs for the new album.
Line-up:
Elio Sesia: Guitars
Rosalba Gentile: Piano and Keyboards
Marina Gentile: Guitars
Filippo Piccinetti: Bass
Massimiliano Monteleone: Drums
Iano Nicolò: Vocals