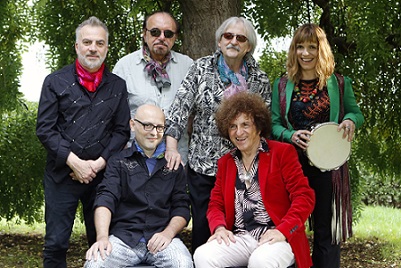 ACQUA FRAGILE
Acqua Fragile debuts live in December 1971, opening for a concert by Uriah Heep in Bologna. The group included Bernardo Lanzetti, guitar and lead vocalist, Piero Canavera, drums and vox, Franz Dondi, bass, Gino Campanini, guitar and voice, Maurizio Mori, keyboards.
In 1973 they released their first self-titled album and, the following year, with the second album "Mass Media Stars", the group was confirmed as "The Noble Outsider of Italian Prog".
Singing only in English – even with three-part choirs – and perfectly inserted in the progressive foreign matrix, the band was excluded from the RAI programs.
In 1975, as soon as Joe Vescovi joined Mori, Lanzetti left the band to become the lead singer of the PFM from '75 to '78.
From the dissolution that has occurred, Acqua Fragile becomes a legendary icon above all thanks to the reprints of their two albums, in the USA and Great Britain.
Over the following years, Franz Dondi never abandoned the idea of a return of the Parma band so much as to engage, with young local musicians, with an "Acqua Fragile Project" set up to reproduce the historical pieces.
However, the "Vox 40″ was strategic, the celebrative concert of Bernardo's forty years of music, where, after four decades from the record debut, all five members met again. On this occasion Franz and Piero joined on stage at Bernardo and Mariano Speranza's Tango Spleen Orquesta for a reinterpretation, in a classic-modern key, of the most significant pieces of Fragile Water.
From that moment, the historical trio of AF began to work on a new album of original and unpublished music, availing itself not only of the aforementioned Tango Spleen, but also of various Italian and foreign collaborators, among which the names of the British poets Pete Sinfield and Nick Clabburn as well as American drummer Jonathan Mover.
"A New Chant" is thus the third album of the Italian Prog Band but, to underline the singular character of persistent outsider, the work is published by the British Esoteric Rec. Accepted more favorably by critics and public, "A New Chant" pushes the trio AF to present itself with a new line up to face live concerts.
Right from the "Acqua Fragile Project", guitarist Michelangelo Ferrilli and vocalist Rossella Volta are recruited. The keyboardist Stefano Pantaleoni, a prog scholar and professor of composition, arrives to complete the training.
Alienating, romantic or obsessive atmospheres, odd times, daring arpeggios with an avant-garde eye, poetry and nonsense combined with the strength of a solo and choral vocality, unique and articulated, are significantly present in the live proposal of Acqua Fragile 2019.
Line-up:
Michelangelo Ferrilli: guitars
Rossella Volta: voice
Stefano Pantaleoni: keyboards
Piero Canavera: drums, voice
Franz Dondi: bass
Bernardo Lanzetti: voice