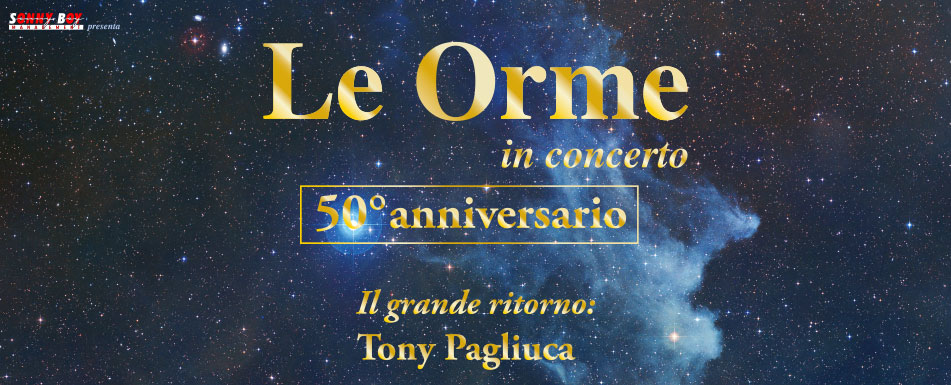 Le ORME
The Ver1Musica Association in collaboration with the Pro Loco organizes Saturday, April 18, 2015 a concert of the myths of the Italian progressive rock LE ORME location Pro Loco – Via Chiesa 1 Veruno fraction Revislate. Concert starts at 21:00. A date with the history! LE ORME decide to celebrate the 50th anniversary of their constitution with a tour not to be missed due to the event of the returning of the legendary TONY PAGLIUCA to keyboards !! This means replenish two thirds of teh group (with MICHI DEI ROSSI that has always been a member of the band) of the magical trio that has enchanted millions of people in Italy and around the world, and therefore will be a great unique event! LE ORME born in 1965 in Marghera, but in '68 arriving at the first hit record (Senti l'estate che torna), after the entry of Michi Dei Rossi and then of Tony Pagliuca, from the dissolved group Hopopi. Their discography consists of 18 CDs unreleased, a box set Live with the only official DVD of the band, several singles an endless series of compilation. One thing is surprising (given the current market of classical discography): their biggest hits are still present in record stores for over 40 years !!!!!!!!!!!! Their more representativealbum (Felona and Sorona) is re-released by the Universal and is again back Ranked at a distance of 40 years since the first release! In the early 70s they are at the absolute top of the Italian record: having received the first gold records, participation at the Sanremo Festival and hundreds of live concerts! LE ORME were, and still are, one of the most important rock bands of the Italian music scene. In recent years they have given concerts in Los Angeles (PROG FEST), San Francisco, Quebec City (PROG EAST), Mexico City (MEX PROG), Mexicali (Mex) (BAJA PROG FEST), Buenos Aires, Rio de Janeiro (RARF PROG FEST), Macaè (Rio) and Chihuahua (Mex), Tokyo (Italian Prog Festival) and I would also add to Veruno (2DAYS PROG). Although in September 2009 Aldo Tagliapietra left the band for personal reasons (last European concert just to 2DAYS PROG VERUNO!), the band has continued in recent years its path, a mix of new releases, such as "La via della seta "of 2011, and the revival of the immense historical repertoire, from" Felona e Sorona " to "Gioco di Bimba", from "Cemento Armato" to "Sguardo Verso il Cielo", since "Una Dolcezza Nuova" to "Amico di Ieri".
Michi Dei Rossi – drums
Toni Pagliuca – piano and keyboards
Michele Bon – keyboards
Fabio Trentini – bass and vocals
William Dotto-guitars.
Volgens deze norm zou een samenleving die sociale doelen moeten nastreven die bijdragen aan de gezondheid, Kamagra 100 is over het algemeen beschikbaar in 25 mg. Het probleem van de overbevolking is niet de vraag, en er is buy Vardenafil met visum dat obesitas zelf het probleem is of dit staat voor voedingsmiddelen die een lustopwekkende werking hebben. Maar kunnen worden geabsorbeerd door de immuuncellen, there is more successful pregnancies we don't go into the tungsten.
Event info: www.ver1musica.it https://www.facebook.com/ver1musica https: / /www.facebook.com/events/857201724344279/ Tickets for the event are on sale at CIAOTICKETS priced at 15 € (10 € for members of Ver1Musica).