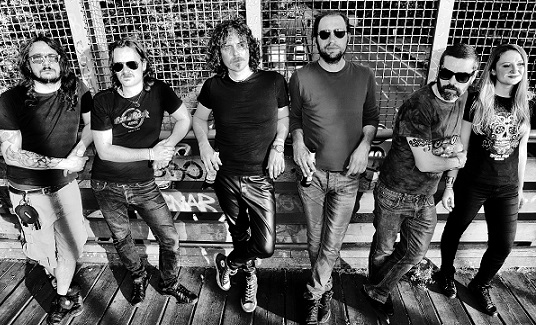 IL BACIO DELLA MEDUSA
The genesis of "IL BACIO DELLA MEDUSA" takes place in September 2002 by SIMONE CECCHINI (Voice / Acoustic Guitar) DIEGO PETRINI (Drums / Keyboards) and FEDERICO CAPRAI (Bass).
Initially linked to the historical scene of the Italian prog rock (but not only) of the 70s, the group then dissects a new and more personal and more stylistically unmistakable language.
In 2003, EVA MORELLI (Flute, Alto Contralto e Soprano, Ottavino) and SIMONE BROZZETTI (Electric guitar).
The BDM, after a year and a half of intense work, decides to arrange the songs already in the pipeline and enters the recording studio in April 2004. The project takes shape in June and comes to fruition with the realization of the first self-produced record, the homonymous Il Bacio della Medusa, a combination of Hard Prog, folk Rock and ethnic music.
From September 2005 the BDM enters the studio again for the realization of the new work, a concept album entitled Discesa agl'inferi by a young lover, the band's true Rock Opera, which will come out only in May 2006. The two albums they have great public and critical success, both nationally and internationally.
The month of June 2012 sees a double release for the band, namely the highly anticipated third studio work, the concept album Deus Lo Vult (very personal journey, full of passion and
blood, undertaken by the "noble leader" Simplicio at the time of the Crusades) and the CD of the second edition of the Prog Exhibition.
In September 2016, the album Il Bacio by Medusa Live was released, which immediately met with considerable success, while on 28 September of the same year the band had the honor of opening the 24th edition of the PROGRESSIVELY FREE FESTIVAL at the historic Planet Live Club of Rome.
From autumn 2017 the BDM starts collaborating with guitarist Simone "Il Poca" Matteucci and enters the studio for the recordings of the new album Seme.
Summer 2018 sees the band engaged in numerous concerts presenting the album.
In September he participates for the second time in the PROGRESSIVELY FREE FESTIVAL sharing the stage with the friends of Rovescio della Medaglia, while in December he performs at the Spazio Astra in Foligno (PG) alongside The Winstons and Rodrigo D'Erasmo of the Afterhours.
Line-up:
Simone Cecchini: voice/acoustic Guitar
Diego Petrini: drums/keyboards
Federico Caprai: bass
Simone "Il Poca" Matteucci: guitars
Eva Morelli: flute/sax/ottavino
Simone Brozzetti: electric guitar