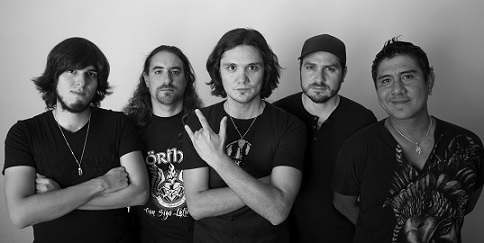 FLOR DE LOTO

Flor de Loto è una Progressive Hard Rock/Fusion band dal Perú, con una lunga storia alle spalle che comincia nel 2005 con l'album "Flor de Loto", fino al 2018 con il decimo "Eclipse".
Quest'ultimo è stato prodotto da Roy Z, che ha lavorato anche con Judas Priest, Bruce Dickinson, Yngwie Malmsteen, Helloween, Angra e tanti altri.
La band ha fatto parte di numerosi festival come Crescendo (Francia 2008 e 2016), Baja Prog (Messico 2007), Festivalternativo (Messico 2015), Río Art Rock Festival (Brasile 2006 e 2009), Virtual Fest and La Plata Progfest (Argentina 2012, 2013 e 2014), Crescendo Guyane (French Guyane 2016) Andes Prog (Cile 2013 e 2015) and ROSFEST (USA 2018).
Hanno condiviso il palco con nomi del calibro di Paul D'Anno, Within Temptation, Orphaned Land, Focus, Sonata Arctica, Tony Levin´s Band, Hawkwind, Mr Big, Angra, PFM, Saurom, Brand X e Threshold.
Hanno inoltre collaborato con il celebre cantante Fabio Lione (Rhapsody, Angra, Vision Divine), il quale ha registrato una canzone nel loro ottavo album "Arbol de la Vida".
Sono inoltre stati premiati come "Band dell'anno" nel 2011 da un importante quotidiano peruviano (El Comercio) e hanno ricevuto il premio "Album metal dell'anno" nel 2016.
Line-up:
Alonso Herrera: Lead Guitar/Vocals
Alejandro Jarrín: basso elettrico
Gabriel Iwasaki: Tastiere
Alvaro Escobar: batteria
Sergio "Checho" Cuadros: strumenti a fiato