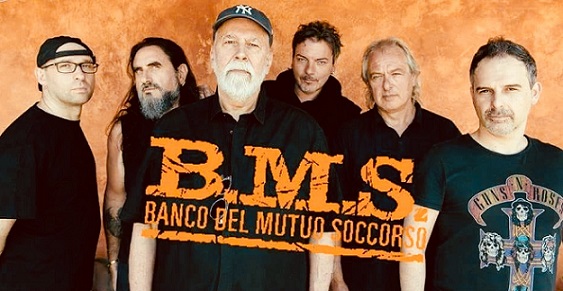 BANCO DEL MUTUO SOCCORSO
To talk about the BANCO DEL MUTUO SOCCORSO and the importance it had and has in music in general and in progressive music in particular, we would need a book! So we can only give two very limiting notes …
It all began in 1968 when Vittorio Nocenzi, already an established keyboard player, together with his brother Gianni on piano, Franco Coletta on guitar, Fabrizio Falco on bass and Mario Achilli on drums joined for an audition at RCA to present some of his own compositions. The hearing was successful. But the real first steps were taken by the band Banco Del Mutuo Soccorso in 1970 in Marino (Rome), the birthplace of Vittorio and his brother Gianni, where the group has its own rehearsal room (the legendary "Stalla"). The real turning point came in 1971 when at the II ° Caracalla Pop Festival in Rome, the Nocenzi brothers met the guitarist of Fiori Di Campo, Marcello Todaro, Francesco Di Giacomo (vocals), Renato D'Angelo (bass) and Pierluigi Calderoni (drums of the band Esperiences) deciding to join forces.
We thus move from the songs of the first period, strongly influenced by the beat, to long and complex compositions, which reflect the great love for classical music of the Nocenzi brothers. It is thanks to the skill and innovativeness of the band, as well as Sandro Colombini and Franco Mamone, that the group is put under contract by Ricordi Dischi which publishes the first three albums destined to go down in the history of the nascent Italian pop, and which will be a lot appreciated, even abroad.
1972 – Banco del Mutuo Soccorso ("R.I.P. (Requisecant In Pace)", "Il Giardino del Mago," Metamorfosi ")
1972 (a few months later) – Darwin! ("La danza dei grandi rettili", "La conquista della posizione eretta" e "750000 anni fa… l'amore?")
1973 Io sono nato libero ("Non mi rompete", "Traccia II", "Città Sottile", "Canto nomade per un prigioniero politico", "Dopo… niente è più lo stesso").
As a famous actor would say: what do you want more!
No less relevant is the following album "Come in un'ultima cena" (1976) with the famous song "Il Ragno", or the complex but beautiful "… di terra" of 1978, instrumental, but of which the great Francesco Di Giacomo is the author of the verses which, taken individually, form the titles of the seven compositions present … "Nel cielo e nelle altre cose mute ….Terramadre … Non senza dolore … Io vivo né più di un albero non meno di una stella … Nei suoni e nei silenzi … di terra…"
Then the nineties, with a greater pop contamination and some hits of greater media coverage, such as "Paolo Pà", "Buone Notizie", "Lontano da" and above all "Moby Dick", another song that will turn out to be among the best known and appreciated by the public.
2014 and 2015 were dramatic years for the band: after the death, in 2014 of Francesco Di Giacomo and in 2015 of Rodolfo Maltese, historical voice and guitar of the band, Banco continues to live in the collective imagination of fans, who ask with love and force their return to the scene. And so Vittorio Nocenzi, in 2014, celebrates the missing vocalist with "Un'idea che non Puoi Fermare", a poignant album that still sees the presence of Maltese, and in which numerous actors (including Oscar winner Tony Servillo) re-read in prose the most significant lyrics of the band on original compositions specially written by Nocenzi for the occasion.
And in 2019 the concept album "Transiberiana" takes shape and life, an autobiographical journey, so Vittorio Nocenzi makes his debut in presenting his latest work. A concept album, therefore, like those that were once the stylistic code of prog-rock. And as bonus tracks there are two historical songs recorded live at… 2Dyas Prog +1 by Veruno !!
Line-up:
Vittorio Nocenzi: keyboards, vocals.
Nicola Di Già: guitar.
Marco Capozi: bass.
Filippo Marcheggiani: guitar.
Tony D'Alessio: voice.
Fabio Moresco: bass.