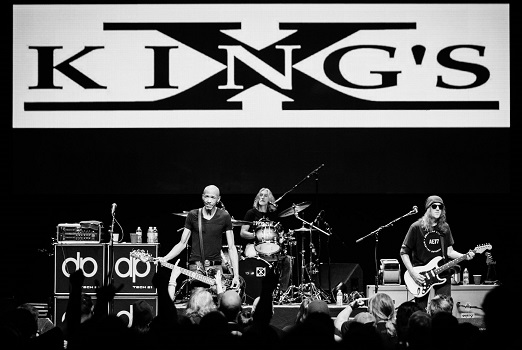 KING'S X
King's X is an American rock band, composed by bassist and singer Doug Pinnick, guitarist Ty Tabor and drummer Jerry Gaskill.
In 1980 Doug Pinnick and Ty Tabor invited drummer Jerry Gaskill to join them for a new musical project. The three decided as the group's first name that of "The Edge", and in the beginning they performed mainly in small clubs in Springfield, Missouri. In 1983 the band's name was changed to "Sneak Preview", and the three began recording their own material. Their first self-titled album was produced in 1984.
The turning point for the band came when Pinnick, Tabor and Gaskill met Sam Taylor, president of the ZZ Top production company. Taylor convinced the three to change the name to "King's X" and helped them get a contract with Megaforce Records in 1987, becoming their manager and producer. With the new name, the band recorded their first album, Out of the Silent Planet.
In 1989 they released their second album, Gretchen Goes to Nebraska, and the song Over My Head was repeated several times on MTV. In the fall of 1990, King's X recorded their third album, named Faith, Hope, Love.
Faith, Hope, Love had some success, and this allowed the King's X to open AC / DC concerts in Europe and the United States in the first half of 1991. They also performed live together with the Living Color.
The King's X got to be able to record their next work with Atlantic Records: the album was called King's X and saw the light in 1992.
After a period of reflection, the King's X returned to the limelight engaging veteran producer Brendan O'Brien (who had also collaborated with Pearl Jam, among others). In 1994 the Dogman album came out, characterized by heavier sounds and more direct and incisive lyrics.
The band switched to Metal Blade Records in 1998, recording the Tape Head album, which marked a new turning point: Pinnick, Tabor and Gaskill participated more actively in writing the material, collaborating together rather than presenting themselves in the studio with individually written material as done previously. The following albums were recorded in the same way.
In 2005 the group recorded the satisfying Ogre Tones, with Inside Out Music. The album was produced by Michael Wagener, famous for his collaboration with Dokken, Extreme, Slayer and others.
Line-up:
Doug Pinnick: singer/ bass
Ty Tabor: guitar
Jerry Gaskill: drums